Adult Education Program

As part of our Seeds of Change Program, the Mission holds weekly adult education classes. At the end of class each student receives a token. to turn in at La Tiendita (The Little Store) for a grocery bag that may be filled with food and toiletries. Students may also choose to save their tokens for our Christmas Blessings Outreach event, share them with friends and family or keep them for a time of greater need. Classes vary every week, but may include topics such as: Bible, cooking, nutrition, emergency preparedness, finance, health, occupational safety, parenting, sewing, ESL, GED, computer and hair-cutting. We strive to offer classes that are relevant to the issues that our population faces. Several community agencies (for example, the Red Cross) are generous enough to present information to our students on a regular basis.

Gratitude & Emergency Program

We recognize that not all people are able to attend our classes due to health, scheduling conflicts or time constraints. For these people we offer a Gratitude Program. For every ½ hour that a person volunteers we give them one token. Several cleaning jobs, yard maintenance, and food pantry tasks are accomplished by these hard-working volunteers every week.
​
​For those that are unable to volunteer in our Gratitude program because of their circumstances, we offer emergency assistance. We provide emergency assistance in the form of food, toiletries, and gift cards to families that are referred to us by community agencies, area schools and hospitals.

Christmas Blessings Outreach

Good Samaritan Mission's Annual Christmas Blessings Outreach Event is held every year in December. Our Adult Education students save tokens earned by taking classes throughout the year and use them to "purchase" toys at the event. Each toy is given a token value and our guests shop for toys and bicycles with their tokens.

Scholarship Program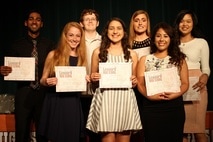 ​With the financial support of Hyde Park United Methodist Church, Good Samaritan Mission provides post-secondary scholarships to deserving students in need from Lennard High School in Ruskin, Florida. Each student is provided $1,000 for tuition annually for four years. We are currently assisting 17 students with their tuition at several schools across Florida.
---